A few updates from the Arsenal
Hello all! I wanted to write a quick note to let you know that despite our silence of late, the Arsenal is still alive, and quite well, thanks for asking.
The main reason why you haven't received your usual email blast about new products or features starts with "Arsenal" and ends up in "v3″ (speaking of which, are signed up for the newsletter yet?) We've all been hard at work to finish the last bits and pieces required to launch a brand new Arsenal, rewritten from scratch. There are quite a few more things to finalize before we feel comfortable releasing this new "creature" in the wild, but we promise the wait will be worthwhile.
Curious about what the vectors' home page will look like in the near future? Check this out: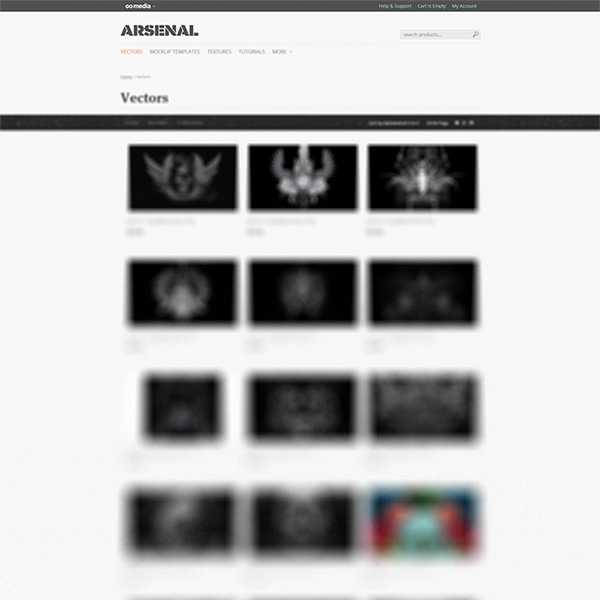 Neat, huh? Yes, I'm aware it's quite blurry. But we don't want to unveil everything quite yet.
And there's more
In case you missed it, two tutorials I wrote were recently released on this very blog.
The first one demonstrates how to get a VSCO Cam vibe with Photoshop while post-processing your photos. It's the result of a few personal experiments, and will spawn a little Arsenal product early next year. The fact that the folks at VSCO somewhat endorsed it obviously made my day and explains why I'm still rambling about it.
The second tutorial shows you how to create a vintage -ish horror movie poster using the vectors from our 23rd set. It's an illustrator only tutorial, and it even includes a little freebie. You know you should check it out!
Talking about freebies, there's one more thing before I'm going to leave. Our vector sets feature these cool preview images. Created with elements each the set, their main purpose is to showcase the set's content and potential. We decided to go ahead and turn them into wallpapers to beautify your screens. You can download the archive over here. Here are a few examples:
Also, we've included the super cool type pieces our very own Chris Comella created for the Freelance Survival Kit. These should help in keeping you motivated and focused.
And on that note, it's time for me to go back to the grind. We REALLY want the new Arsenal to go live, and are very excited to share it with you! Until next time, cheers.